After my findings the other day about why the 07 Peugeot hadn't been out, things have turned out a lot better. Indeed, while there was a crack, Peugeot decided not to send a new chassis out and sent over their carbon fibre specialist instead. He spent all wednesday night working on the car. The guys were then supposed to be testing it, and if it was decided by everyone that the car is ok, they'll race, but if not, they'll pull out. At that point they weren't sure but the guys on Radio Le Mans were having a hilarious time arguing with what Peugeot had said. It went along the lines of 'Peugeot say that if the car isn't right then they'll pull out, and let Audi win, yeah right' etc.
Bruno Famin, Peugeot Sport's Technical Director explained: "This tub had been repaired by our subcontractor following a crash last year. The repairs clearly weren't carried out properly, though, and we had to find a solution here on site with our own composites specialist. We will keep a close eye on the situation during the race."

Anyway, during practice yesterday I was watching the timing screens, as well as listening to Radio Le Mans. The 07 car was out. Both Nic and Pedro gave the 07 car a run, with the final times very similar to the slightly quicker 08 car: 1.46.537 to a 1.46.693. Though, this is 2 seconds off the time that Nic did on Tuesday, so I can only guess, especially after watching the times, that they were testing out the car. This is also not surprising because none of the guys had really had any track time, just a little time on Tuesday.
Nevertheless, the 07 car went out for qualifying yesterday, with Christian driving it. I must thank Moa for keeping me posted on the times when I was unable to get access to them myself! The P1 cars are all very close in time, with Christian's 07 car in P3. I'll explain a little more about this after this quotation:

"Like Le Mans, Sebring is a real endurance race, so starting from pole position wasn't a priority for us. Qualifying was essentially just a chance for us to prepare for the race and we only put in the number of laps we deemed necessary, which means we have spared our tyres. We are pleased with our lap times and the main objective comes on Saturday, not before. That said, seeing how qualifying unfolded, with all the LMP1s bunched so close together on the same second, it promises to be a very close race. We have no intention of taking any risks, however. Our goal is to prepare for Le Mans," stated Peugeot Sport Director Olivier Quesnel.

Christian was supposed to do 1 lap, but I'm told he spun on the 2nd corner, but then put up the fastest lap on his 2nd lap. I find this impressive, especially after he's had limited track time and the car's been out of use for a day! It looks particularly good when you examine the laps the other cars took to get to the front of the grid, thus resulting in Christian going back to 3rd.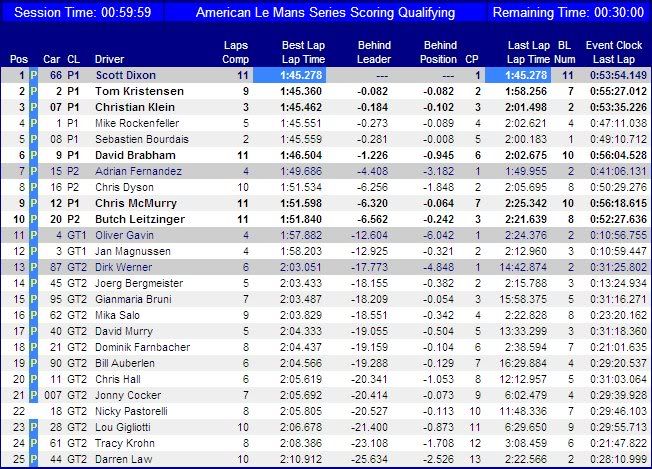 I'll put up links to the official timing sheets at the end. I wish they'd check their spellings though!

Christian said: "Sebring is new to me and I haven't had too many chances to drive this week. It is a very difficult, bumpy track, but I feel comfortable with our car. Concentration is likely to be a key factor because there are so many potential pitfalls here. The car is going well, though, and I hope our problem with the tub is behind us. I feel confident."

Night practice, Pedro Lamy took the car out. Franck Montagny topped the times on the damp track and Lamy posted a fairly respectable time getting P3 in Night practice.

The only other thing I can say, before I post links for things, is that the commentator John Hindhaugh keeps saying that Christian is his favourite driver. Yesterday he said "Christian Klien's performance and the Peugeot teams performance at Petit Le Mans has been my highlight" and a little while ago he was talking about the teams and said "the 07 Peugeot with Nic Minassian, Pedro Lamy and Christian Klien, my favourite driver, my favourite sportscar driver" which I think is rather good.

I think it will be a good race tomorrow and I hope for a good result.

Peugeot comments
Montagny quickest in Sebring darkness, dampness
Sebring shocker: Dixon claims pole for Acura
Sarrazin roars to front in Sebring practice
Can't remember/find any more links at the moment.

Times
Wed morning practice
Wed afternoon practice
Thurs morning practice
Qualifying
Night practice
Provisional grid