I am hooked on Dracula - das musical.
I
blame
love
fyuvish
for it.
"If Elgar was still alive I might have thrown a hot cup of tea over him"
Some of you will remember my ducks that I needed naming. Well, they were all named successfully, but I became rather attached to them so they didn't actually go anywhere. This means they are still all around my house. However, I now have a few more ducks. Sooo meet the ducks! All pictures will be clickable links because I'm too lazy to crop pictures etc.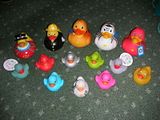 (
Collapse
)