A month ago I ordered a new alarm clock. It was a pre-order, due to be released on 8th May. 8th May came and went, and my alarm clock release date was put back to 29th May. 29th May came and went and my alarm clock then said it would be released on 12th June. I wasn't holding out much hope that they'd actually release it then, but then I had an email through 2 days ago to say that my alarm clock had been dispatched. Long story short, I had a parcel arrive today, containing my alarm clock.
(
Collapse
)
I also said that I'd post a picture of my circuit board coaster when I get Mr Bump through, so here's a picture of that, some random sweets I just bought, and my German GP ticket *bounce*
(
Collapse
)
And finally, sometimes I love going out wearing bright stripy socks that people can see. It makes me look eccentric.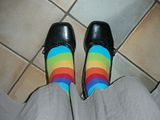 Yes, it's clickable if you want it