Roland Ratzenberger
4th July 1960 - 30th April 1994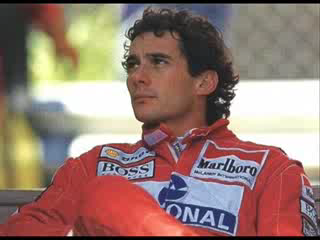 Ayrton Senna de Silva
21st March 1960 - 1st May 1994
On Saturday the 30th April 1994 the front wing of Roland Ratzenberger's Simtek car broke off, pitching his car into the wall at the Villenueve corner at more than 300 kilometres an hour. He broke his neck and was killed instantly. Sadly, he remains the forgotten man of the Imola weekend, as his death was overshadowed by Ayrton's just 24 hours later. But Roland was not forgotten by the drivers who had loved him so much. In the wreck of Ayrton's car the next day, they found a furled Austrian flag, soaked in blood. Ayrton had planned on raising it on the podium that afternoon in honour of Roland.
15 years ago today, Ayrton Senna's car bottomed out at the Tamburello curve at Imola. The resultant loss of control sent him headlong over the asphalt and into the concrete wall at well over 150 miles per hour. He was killed instantly, his brain dead at once, although they revived his heart and kept it beating until 6:40pm. When they turned off the machines, however, they announced his time of death as 2:17pm.
It was a shock to the whole world that he had died, that there had been two deaths in two days, and his and Roland's deaths launched a new wave of safety in F1. It is thanks to the enormous sacrifices of Roland and Ayrton that Heikki Kovalainen and Robert Kubica are alive today.
Ayrton has not been forgotten by any, not his fans, nor those who love him.
Rest in Peace
They will never be forgotten. Please take a moment to reflect.
Senna remembered
Roland Ratzenberger & Ayrton Senna both died at the Imola GP this weekend, 15 years ago.