Well hello there everyone. I do realise that I have been a complete numpty when it comes to LJ and have absolutely no idea what's been going on but well, I've been busy. Busy with what, you ask? Well... I'm going to tell you :D

Because I don't quite know where to start, I'm going to just start at the beginning.

In case you've missed it, I'm in Vienna and I've been away from LJ for a while because of this. I was offered a job as an au pair here, and well, I took it. I flew out from Luton to Vienna Schwechat on Monday 28th September and have since been trying to get in with the Viennese way of life!

The first few days here were very strange because for reasons beyond my control, I ended up being home alone for the first few days. I mentioned before that Sabrina was pregnant with twins, but she had to have a c-section because she'd been having problems, so she was in hospital when I arrived. Her husband Michael collected me from the airport, gave me the briefest of tours, including dropping in to say hello to Sabrina in hospital before he had to go to Prague for a few days for work. Thankfully he'd dropped Alexander off at his grandparents house so I didn't have to try and deal with him when I didn't know what on earth I was doing!

Sabrina came back on the Wednesday and slowly things started to get back to normal. They're still trying to get back to normal now, but they're more normal than they were then! She explained what I need to do etc and I'm just getting into the swing of things now. The first few days of 'normality' were very difficult, especially because Alexander (the child I'm looking after) didn't know me, and I didn't know him. Now, however, I have been accepted by him and he likes me. Though, I don't think I will ever get used to a nearly 2yr old child pretty much throwing themselves at me, especially not on the stairs! If you're currently sat here reading this and going O_o think 2yr old child at the top of the stairs, you walking up and when you get to nearly the same level as child (though you're a couple of steps down) them launching themselves at you.

Anyway. Yes. What do I do then? Well, I have to get Alexander dressed in the morning, get him breakfast etc and then take him to the daymother (childminder). Then I have free time (me time!) until I have to go and collect him at 2.30. I then have to look after him until bedtime and then get him ready for bed. This all sounds very easy, until you know all the timings. Alexander is normally up between 7 and 7.30, which results in me being up at 6.30, especially if I want to eat something before I get him dressed, because after that we go straight out. He also goes to bed at between 8 and 8.30, which makes it a long day! You find you NEED the hours he's at the daymother to actually have the time to yourself to do things! I do have Saturday afternoon (apparently) and Sunday off, but the saturday one hasn't actually happened yet (various reasons).
It's approximately a 25-30min one way journey to Ingrid's (the daymother) on the bus. By the way, I obviously did work out where the bus stopped, and I was correct, it doesn't stop in the middle of the road (though the stop down from mine, the bus goes down the tram lines and does stop at the tram stop...) The 25-30 mins time is door to door though. The actual bus ride is about 10 minutes but how people cope with pushchairs and buses normally, I don't know. It takes skill to manouever a pushchair on and off a bus, and pavements with high kerbstones.

What else, what else? Sabrina is a very tidy person, and in addition to the above I also have to help out around the house a bit. Give it a hoover every so often (she says she vaccums once a day, I often push it so its done every couple of days - I need me time!) and I have to take the rubbish out too. I can tell you that there are definite pros for having bags in ALL the bins in a house.. rather than just emptying others into one later... I did have a problem finding where the actual big bins are though. Sabrina said 'it's the white door around the corner. You can't miss it!' but the only problem with that statement is that every other door here is white, and there are lots of corners!

I think that's all the day to day stuff. I won't bore you with all the intricate details of other things, namely because I've tried wiping them from my mind today because it's my day off!

In other things, my days off, all two of them so far, have been spent wandering the city, trying to get myself vaguely orientated and just trying to get to know Vienna itself! First impressions, I like the city. In a way, it reminds me of York, and yet it is completely different.

Last Sunday I went wandering, and getting lost, and saw sights such as the Hotel Sacher (where the famous Sachertorte comes from) and St Stephen's Cathedral. My U line goes directly to the city centre so I could see the Cathedral pretty easily! It's quite impressive. Last week I also found somewhere recommended by
lutitia - Haus der Musik. I had a feeling that I'd like it there, and bought a years pass before I went in (it's 27€ for a year's membership there, and for it to pay for itself you only need to go 3 times). It wasn't long before I was loving the fact that I'd bought a years pass to it. I literally spent hours in the Haus der Musik and didn't see it all! I skipped out some parts because I was running out of time, so the year pass is definitely a good thing. I will be spending a LOT of time in there. It's like music geekiness heaven. It really is. If anyone comes to see me, I will be taking you there! When my membercard comes through (they said it takes about 3weeks) if I take a companion with me to the Haus der Musik, they get in for half price, so it makes it even better :D

Throughout the week I've been going to Donauzentrum mostly. I did spend a couple of days in the city, but I've been to Donauzentrum a lot. Donauzentrum is a shopping centre on this side of the river. It's quite good, but I keep getting lost in it! Sabrina likes to have lunch at the Sushi Restaurant there too. I like Sushi but trying to order it in German is... interesting. Normally at home I have the vegetarian one, because I prefer it, but as you can't get Sushi much at home, I don't really know what they do, so going to a Sushi Restaurant in England would be quite bad. Going to one in Vienna is... terrible. The first time I had no idea what I ordered/what was ordered for me, but it was all fish, bar 2 cucumber rolls. I'll post a picture of what I had left (that Sabrina had put in a container for me to take away for later) further down this post. Surprisingly, I didn't eat it. However, the other times I've been there for lunch I've been ok. I tried something with Noodles last time and it was so good that I went there by myself and had it again the day after! Obviously I didn't take pictures of that... (they'll be below..) It was cool sitting where I did though, because I could see the man making sushi while I was waiting for my food.

Skipping a bit, I met up with
feeverte on Wednesday. It was really good to see her again, and Vienna is rather a bit of a different venue to meet than London! Thankfully,
feeverte was able to show me a bit more of Vienna, places that I didn't even know existed, and gave me a few tips on things too. She showed me the palaces, and let me in on a bit of history of them. I still love how there are identical palaces, the one made just to be an exact mirror image of the other (though looking at it, it would look strange if there was just the one there now!) It also amuses me that the first palace was built as a holiday palace, and that it's across the road from the original palace... though, apparently there were actual city walls at one point, and the new palace was outside the city walls, so therefore not in Vienna. Vienna now, however, is much bigger (and doesn't have a wall enclosing the first district) so it seems a little strange now. Strange, but good.
Back to business,
feeverte and I ended up at the MQ (which I rather like, thanks!) and had waffles :D Yum! Waffles and tea, to be exact. It was good, though I think we actually melted that day. It was about 26C, and we were sat outside in the sunshine. Yes, 26C. In October. I have tan lines from that day. Nevertheless, it was good, and will have to be repeated sometime soon. Perhaps not an exact replica, as it's a bit colder now and will continue to get colder still as Winter draws near, but repeated in a form :)

Today I went wandering around the city again, and ventured out of the first district, taking in some of the sights
feeverte showed me on Wednesday. This time I took a camera and went out purely to take pictures, and take pictures I did! I'm currently just uploading them to Flickr at the moment and I hope they will be finished by the time I'm finished with this!

Some of you will have also seen me commenting on Twitter about Viennese me. Viennese me will end up far girlier than I am now! Sabrina and Michael decided that maybe it would be a good thing if I learned to dance whilst here. They asked me if I danced, and I said a bit, which is true, but I do English folk dance, not proper waltzes etc like they do here, though I have always wanted to learn to dance. After a little searching, they found me a course at a dance school in the city centre. This particular dance school is the best in Austria: Tanzschule Elmayer. They've found a course which is an intensive course for the military academy (so they needed ladies). For 80€ one gets a 1hr lesson a week for 10 weeks and learns, as the site states "Wiener Walzer, Langsamer Walzer, Foxtrott (Quickstep), Tango, Polka, Cha Cha Cha, Rumba, Samba und Boogie Woogie". For a normal course where you might learn that lot at this school, you could easily be paying over 200€ so it's a very good opportunity. Also, normally these courses can be hard to get on because they get booked up quickly, but there was a space on this one, so I have to go there on Monday *scared*.
Sabrina keeps telling me that people in Vienna, and a lot of people that go to this dance school like to see other people, and to be seen themselves, if that makes any sense. They apparently like to look down on those who don't fit in so well. Because of this, she has insisted on giving me a makeover of sorts and now me, who rarely wears makeup, now has a small collection of things that she's showing me how to use etc. Thankfully she's very good and it looks natural but who knows if I can do that or not! I will try! I've also had to go shopping with her to make sure I have the appropriate clothes for the first time there. Subsequent times you can tinker etc cause you know what others are wearing, but she doesn't want me to stand out as 'the English one'. I can do that all by myself when I go all O_o over being told what to do in German and just being O_o over actually learning dance steps!

One of the cool things about this though is the fact that I'll get to dance at the Hofburg (and, as I believe it, open the ball at the Hofburg [don't ask which one etc, I can't remember]). I had a better look at the Hofburg earlier (from the outside obv) and it does look rather nice! In case you're wondering, this is what I'm doing at Tanzschule Elmayer and here is the website in German and English. If you've not seen it before, it's worth having a quick look at both homepages because they have different pictures on them.

I can't think if there was anything else I was going to put but this is more than long enough and the Haribo have addled my brain now. So... I will finish here, with some pictures for your pleasure and/or amusement. Don't say I never give you anything :P


The Sushi I brought back, complete with chopsticks and a little bottle of soy sauce that they gave me



District 1 in Vienna. I got hungry and ventured into Burger King (it was near me) and was fascinated by the ceiling. Guess that's what you get when you put something new in an old building :D



Painter on the streets of Vienna. He was much more interesting to watch than the breakdancers, though they had a bigger audience. In my opinion the breakdancers weren't even that good! Anyway, back to the painter. Here he is working on a new piece of artwork which he does with spraypaint.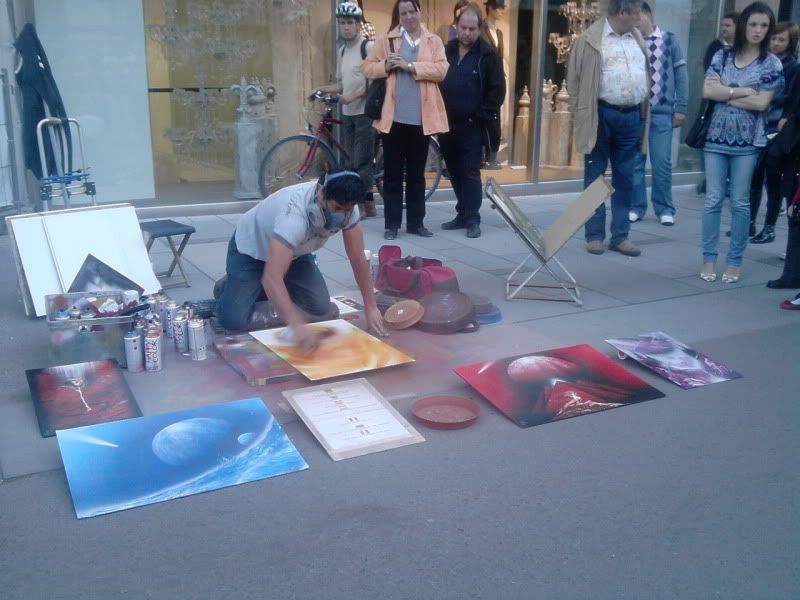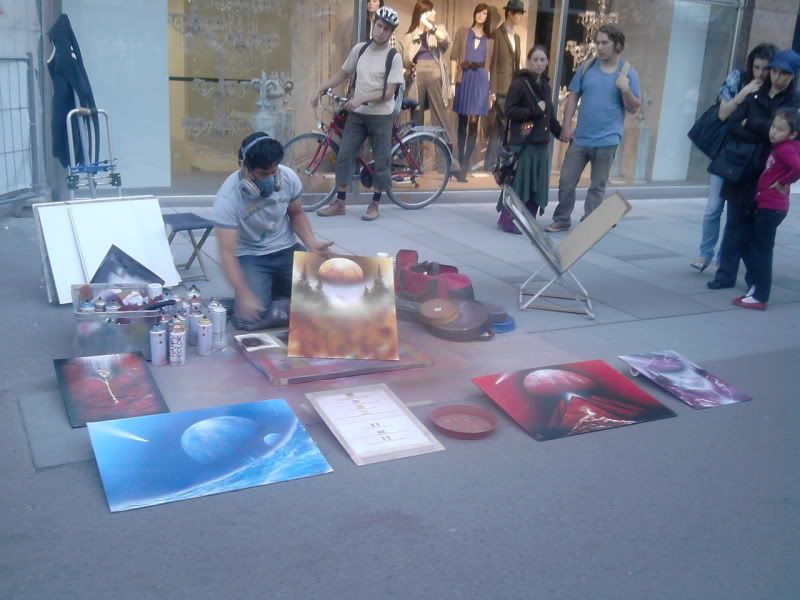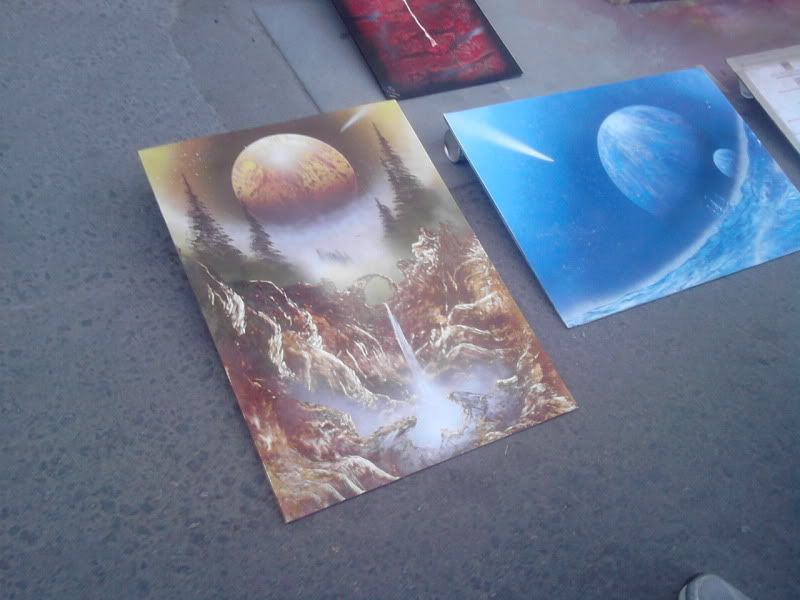 Back at the Sushi Restaurant. The M10 I had from the mittagsmenu gives you a choice of starter. Actually, all the things from the mittagsmenu give you a choice of starter... soup, springrolls or erm... something else. I went for my springrolls. There were more, but I was hungry and ate some before I took the picture!



Lunch in all it's noodley goodness (and look, I can use chopsticks me!)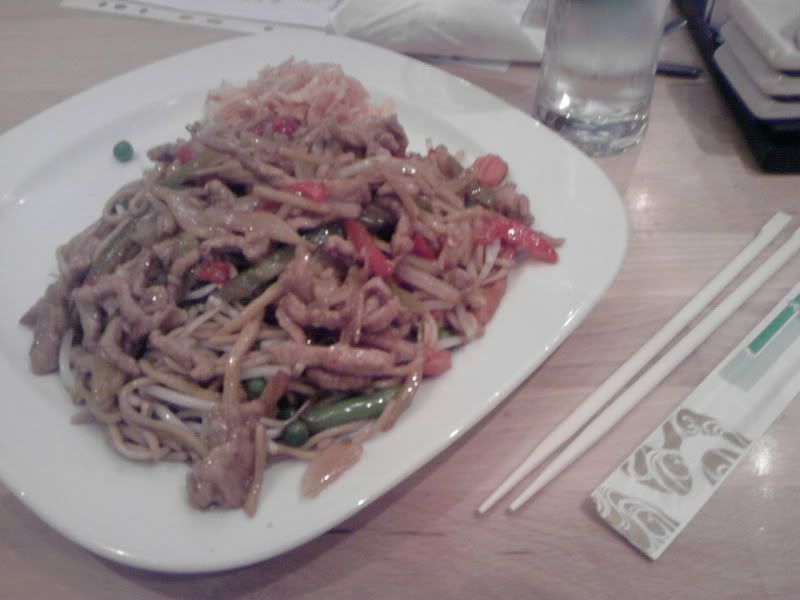 The man I watched making sushi whilst I was waiting for my food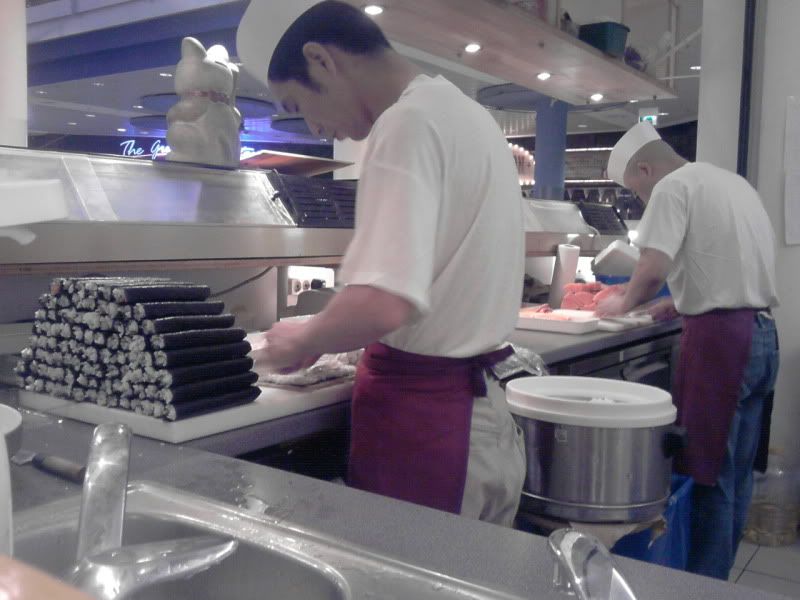 Finally, if you're interested to see my other shots of Vienna, including my room (which I think is quite girly... though has now changed a bit since I took the pictures [note to self: update pics]) you can find them here at papersheep

Tomorrow's to do list: Brushes for makeup, tights, Bob mobile. Don't think I'll get them all done tomorrow, especially not the latter, but I need to get one of those sooner rather than later!