Yesterday I ventured down to London to partake in two things I had never done before. It's not the first time I have ventured to London to do something for the first time - last month I attended the ballet at the Royal Opera House for the first time - but yesterday was something a little different.

Yesterday I attended a book launch but not just any old book launch. This book launch was one from the LSO; more specifically, Gareth Davies from the LSO.

It's not just that I have never attended a book launch before, I have also never attended an LSO event despite spending an extraordinary amount of time talking to them on Twitter... In addition to this they haven't attended book launches before because no-one has ever written a book quite like this and it is Gareth's first book. As such, it was with a little trepidation that we all turned up at LSO St Luke's last night, none of us quite knowing what to expect.

None of us were disappointed.

Starting with drinks we were then treated to speeches from Kathryn McDowell (LSO Marketing Director), Gareth Davies (LSO Principal Flute and the author), Olivia Bays (from Elliott & Thompson, publishers), a short film about the LSO on tour in 1912 and 2012 which complimented the book perfectly and a performance of a popular piece in 1912, In The Shadows, before being allowed access to the delicious cakes from Gareth's sister in law Vic at Victoria's Kitchen. After this we were free to roam, chat and mingle with the other guests - a selection of friends, family, colleagues, patrons and blog lovers (hopefully I haven't forgotten anyone!).

During the evening I got the chance to talk to Jack Nisbet whose grandfather Henry was in the LSO in 1912. Aside from being amazing to talk to someone so passionate about history and his grandfather's work, he was so pleased that his grandfather's diary had been able to be used in this way and was sure that if his grandfather was around now he would have been excited to discover this too.
I also managed to chat to Jo who runs the LSO's Twitter account and Gareth himself who, again, I have spent an extraordinary amount of time talking to on Twitter so much so that he knew who I was before I introduced myself... I cannot work out if this is impressive or scary. Either way it was lovely to be able to meet Jo and Gareth. I even got Gareth to sign a couple of books which I felt was only fitting considering that at this precise moment I own 1% of the pre-signed books the LSO are selling before it's released in the shops. [In case you're wondering this is 5 because they have 500 signed copies.]

What can I say about the book itself? Well, I own 5 copies so it's gotta be good. Or I hope so, at least. So far I am only about 2/3rds of the way through my original copy. The others are going as presents to people who are interested in music. Or that's what I keep telling my family. [A small portion of the reason why I have so many copies is down to Gareth telling me to buy some more on Twitter.] There is more to it than that, though. The book is very much like my degree. Just bear with me here - if you know this story, apologies, if not then it does make sense. I did a degree in Music with History. This means it is a 60/40 course with 60% music modules and 40% history modules. However, whenever I tell people what I did my degree in I get the same answers: 'The history of music?' or 'That's an unusual combination, I wouldn't have thought of that'.
Gareth's book, The Show Must Go On, is exactly like my degree. It combines music and history but is not the history of music and, unlike people initially think, it fits together perfectly. Music and history go hand in hand as you cannot talk about music without also talking about history. Many people think that history is just about what happened when but it is so much more than that. A good friend of mine likes to remind me that, for her, history is made real when we hear the stories of the people involved in it. The Show Must Go On is nothing but this: showing history through the stories of the people who lived it.
In this case it is mostly the stories of three individuals, 100 years apart. Focusing on the lives of musicians who were touring, the book juxtaposes life in 1912, based on diaries from Charles Turner and Henry Nisbet, against life in 2012. Gareth's style of writing is easy to read and relate to which is one of the reasons I am enjoying the book so much. In addition to this it gives us an insight into what things are really like on the other side of the curtain, something very few people will understand or appreciate, as the performance side, while wonderful, is very different indeed. Gareth also mentioned in his speech that many books are written by music critics but none, apart from this one, by those who actually play the music, do the rehearsals, do the extra events, travel around the world leaving friends and family alone for many months within a year. This book has all of the above. This is a book of firsts. This is a book you should read but not just read, read and share with others. This book could change the face of orchestral music. [Have I persuaded you enough yet?!]




Just as I was leaving LSO St Luke's a gentleman spoke to me and amongst various things asked how I had managed to be there at the launch. I told him that I had been invited, indirectly, because of my Twitter connection to the LSO and Gareth [I can't now remember why he thought I was there]. He then asked if I'd attended any other LSO events at which I, regretfully, had to say no because I don't live in London and I have a minimum of a 1hr20min train journey home from Euston with my last train being at 21:10 thus making things a little difficult and requiring accommodation if I wish to do most things. After a moment he told me that I should come to a concert and that Gareth should buy me a drink. Bemused, I jokingly said I'd tell Gareth this and he replied that I should and to tell him that 'Gerry the second trumpet told him to buy you a drink'. Well I wasn't expecting that!

It's things like that which most people don't get to experience. I know that to some musicians can be perceived as being a bit snooty (I play, myself, and have met a few like this) and a good friend of mine was previously under the impression that the LSO didn't have a sense of humour but I can honestly say that despite being one of the best orchestras in the world the LSO are delightfully lovely and down to earth - just a fantastic group of people making some fantastic music.

I think the best comment of the night though was from a lady I chatted to outside LSO St Luke's. Aside from telling me off for not knowing about the London Festival and then saying that I needed to make some new best friends in London so I can attend events in the evening, she uttered these words at seeing LSO players out of concert dress:
'They all look so odd in mufty!'

It seems 2013 is a year for firsts!

-------------------------------------------------------

It wouldn't be right to share all the above and not post any pictures of the event, however, as I was too in awe of everything I didn't actually take many so here are some pictures I have borrowed mostly from Twitter. Thanks and credit to each will be given at each picture. Most of these are credit to the lovely Jo from the LSO.
* I've put all these as clickable thumbnails so to not take up too much space.



Kathryn McDowell introducing the evening. Credit Jo (LSO)


>
Guests at LSO St Luke's. Credit Jo (LSO)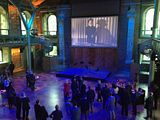 Watching the film about touring in 1912 and 2012. Credit Jo (LSO)
This video is now available on YouTube.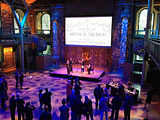 Gareth talks, movingly, about colleagues who are no longer with us but whose stories live on [in the book]. Credit Jo (LSO)



Gareth Davies, Sarah Quinn, Gillianne Haddow and Minat Lyons perform In The Shadows. Credit Jo (LSO)



Books available at the launch. Credit Jo (LSO)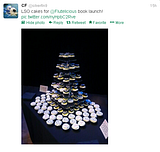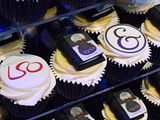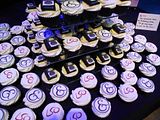 Cakes at the launch from Victoria's Kitchen. Credit Jo (LSO), Carla, Victoria's Kitchen, Me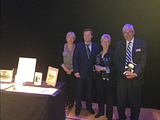 L-R: LSO Archivist Libby Rice, Gareth Davies, Roberta Gagliani, granddaughter of 1912 LSO timpanist Charles Turner, and Jack Nisbet, grandson of 1912 LSO flautist Henry Nisbet, both of whose diaries are of the 1912 tour are in the LSO archive, and which Gareth's book The Show Must Go On is based on. The table contains other items from the 1912 tour, including original programmes, a souvenir medal and photographs taken during the tour. Credit Jo (LSO)



Myself and Gareth.

And finally...
Gareth thanks everyone on Twitter:



But I couldn't really do that without sharing this!



-----------------------------------

Links:

LSO on Twitter @londonsymphony
Gareth Davies on Twitter @flutelicious
LSO St Luke's on Twitter @lsostlukes
LSO on tour 1912 on Twitter @LSOonTour1912
Scanned copies of original documents from the LSO tour in 1912 on Pinterest
Elliott & Thompson on Twitter @eandtbooks
LSO homepage
Elliott & Thompson homepage
Victoria's Kitchen on Twitter @VsKitchen
Victoria's Kitchen homepage